What is UP ladies and gents! Welcome back to another yummy blog post. Today, we at LASS invite you to sit back, take a load off & enjoy a delizioso Italian Sub, courtesy of Eastside Italian Deli. These Subs are as close as it gets when compared to what you'd normally get on the East Coast. That's quite the praise, I know but, hear me out.
Located just a little over a mile and a half from LASS and just a short drive from the famous Dodger Stadium, the Eastside Italian Deli first opened as "Eastside Market" back in 1929. It was owned and operated by Joe Campagna and Domenic Pontrelli. In 1974, the market was taken over by two brothers; Johnny and Frank Angiuli, who first started out as a cleanup boy/butcher and a driver for the market. The two brothers later introduced the Deli and became an instant hit in the community and its surrounding areas.
Grab a Bite!
Tony & I just had the opportunity to go try some of their sandwiches. Right off the bat, the Deli gives off a general store/little market vibe from back in the day. Especially as you walk around the corner towards the entrance; you can see by their huge vintage looking signs that they're very proud to serve Pepsi Cola! Talk about old school. As soon as you walk in, you got the different meats and cheeses up in front in display alongside some cannoli and other meats hanging from hooks in the back of the kitchen, you're almost expecting the inside to be full of crates with fresh vegetables and all sorts of other things. Tony & I quickly got in line which went out the door! There was a Dodger game in a couple hours so most of the clientele was there to watch the game as well. Everyone else was rushing to get their orders before that famous "dodger game traffic" clogged up the streets.
The staff at Eastside Italian Deli worked fast and diligently to get all these orders out to everyone, much like at LASS, when we must handle multiple customers at once. We were lucky to find a table outside where we could wait for our number to be called. The only downside I'd point out is that there's not much shade, fortunately it was nice and breezy out. Tony ordered the Roast beef & turkey with cheese (a cold sandwich), and I had the Italian sausage & cooked peppers with cheese (hot sandwich). I heard our number called just as I walked inside to get us some drinks. The aroma smacks you in the face when you step inside; the fresh herbs and spices mixed into the hot marinara, the different types of beef and pork perfectly cooked filled the air. Just writing about it is making my mouth water!
Mouthwatering Sandwiches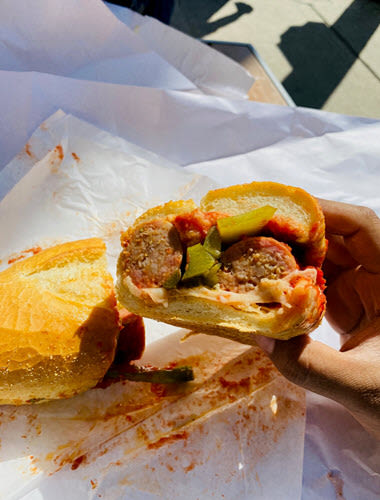 Tony's sandwich looked absolutely packed. A nice amount juicy roast beef/turkey & provolone to balance out the fresh lettuce, tomato, pickles & creamy mayo. Marone, what a sandwich that was! I tried to get a piece, you know, for research purposes, but Tony finished it before I could even ask. I think the only thing that could've made that sandwich better was if the meats were warmed up so the cheese would melt over them. Mmmm…melted cheese. Any who! Like I mentioned earlier, I had the Italian Sausage with the peppers and cheese. Cold sandwiches are great most days, but I had a craving for a hot one and it did not disappoint. The spices in the sausage went great with the marinara and peppers, all covered with a warm blanket of melted provolone cheese. I've said it once and I'll say it again; Marone…what a sandwich. Something that I think goes unnoticed at time is the bread. The bread was crispy and flaky on the outside but so soft, you didn't have to wrestle with it to take a bite off it.
Los Angeles Self Storage
All in all, the Eastside Italian Deli had lots of options to offer, we were happy with our choices. Simple sandwiches with lots of depth to them, each bite jampacked with flavor. It sort of reminds me of Los Angeles Self-Storage, where customers come for a simple service and stay because they see the staff cares about them & the community around us; much like Eastside Italian Deli, Los Angeles Self-Storage strives to be a pillar of the community by providing a great and much needed service. We are constantly making recommendations to old and new customers wanting to try something new while exploring Los Angeles and its neighboring areas.
Eastside Italian Deli
1013 Alpine St
Los Angeles, CA 90012
(213) 250-2464
www.esmdeli.com