Now in its fifth year, the Big Break Local Artist Art Show was held in July of this year. The event, which ran for two consecutive weekends – July 13/14 and July 20/21 – featured art by local artists, most of which were paintings of local landscapes, although some of the paintings were of other areas of the world. The show, which is held in the Big Break Regional Shoreline Visitor Center, is open to the public, and there is no charge to attend. It runs from 10:00 AM to 4:00 PM on all four days of the event, and depending on what day and time you attend, you may have a chance to meet some of the artists, as well.
This was the first year that I went to the event, but it is one that will certainly be on my calendar for the upcoming years! The paintings were absolutely beautiful, and the two artists that I had the chance to meet spent quite a bit of time explaining to me where they get their ideas, and how they choose what to paint. I also received a quick lesson in choosing the right type of paint to use for this type of work, and what the various styles of painting were on display.
Meet the Artists
Miguel Flores – Miguel has been an artist for most of his life, having been encouraged at a young age. He stated that it was his first grade teacher who first labeled him as an artist, and he has pursued that dream ever since. Miguel lives in Brentwood, where he has a private studio, and has painted local landscapes all around the Contra Costa area, including many paintings inspired by the landscape of Round Valley Regional Preserve. Miguel has worked, studied, taught, and held exhibitions in Los Angeles, New York, Japan, France, and Spain. A talented sculptor as well as a painter, Miguel worked for some time designing and building sets for various theaters in New York City, and has been commissioned by several local municipalities, including a water color painting he did of the downtown Brentwood area, and a landscape painting of Byron that won Best of Show in 2006 from the Discovery Art League.
Dan Kennedy – Dan has been painting for more than forty-five years, and won his first award – second prize for a large watercolor entry in the Park Pacifica Art Show – in the summer of 1974. Dan graduated from San Jose State University, and now lives in the city of Pittsburg. Most of his work now, which is a style known as Plein Aire, is done during his mountain bike rides all over the area. This allows Dan to access places only available by dirt trail, and many of his subjects are located in fairly rugged terrain. This, he said, gives him access to what he considers to be the essence of on-site, live, outdoor drawing and painting, and is what motivates him to continue riding and painting all over the area.
Joel Summerhill – Joel grew up surrounded by people who were focused on the land and the landscape. His father was a landscape contractor, and Joel spent his teenage years installing gardens all over Atlanta. One of his grandfathers was a farmer, and the other was the Head Florist for one of the largest nurseries in Georgia. Being around so much nature growing up is what drew Joel to become a landscape architect, eventually earning a position as a Park Planner for the City of Pittsburg; a job he held for over 30 years. Joel typically works in watercolor, and he also follows the Plein Aire style of painting. He focuses most of his work on the contrast between urban and industrial structures, and natural elements, light, and shadow. Currently residing in Antioch, Joel is a member of the Arts and Cultural Foundation of Antioch, and has his work on display at the Valley Art Gallery in Walnut Creek.
Gloria Cannon – Gloria traveled quite a lot during her youth, being the daughter of a career Army sergeant, and has lived in Texas, Oklahoma, New Mexico, Pennsylvania, and Maryland, as well as a two-year period in Germany. She has lived in the Bay Area since 1973. Gloria's mother was an amateur painter, and was always encouraging Gloria and her siblings to have some form of creative endeavor. It wasn't until after she retired that she pursued painting in earnest, and took several classes from other local artists. Gloria enjoys painting both in studio, as well as in the natural environment. She typically will sketch a painting on site in watercolor, take lots of photographs to capture the play of light and shadow, and then finish the work in oil or acrylic back in her studio at home.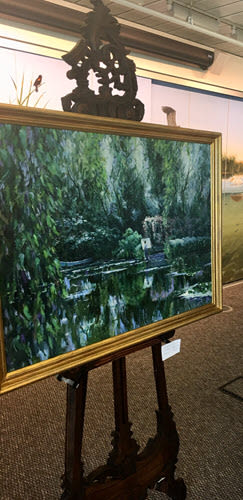 Cypress Self Storage – The Art of Storing
Are you an artist? Whether it's painting, or drawing, or creating scrapbooks, if you need a place to store the items you use for your craft, then Cypress Storage is the place for you! Come check out all of the various options we have for storage, including drive-up self-storage units, interior units, and also climate controlled self-storage, too! Whatever your storage needs are, we have a solution that is perfect for you! Currently under construction, we will open soon! We cannot wait to exceed your self storage expectations!