The other day, I saw a post on a social media site that was advertising the return of the Oakley Certified Farmer's Market, something I used to shop at a lot when it had first started, and was a bit sad to see it go when it closed down. There's really nothing better than buying produce as close to the farm where it was grown. It's always just that much fresher, and when it's fresher, that means you are getting more of the health benefits that the produce has to offer. If you've never purchased produce at a Farmer's Market, then you really have been missing out.
There are a few things that are different about this version of the Farmer's Market from what has been done in the past. First of all, the Market was set up by, and will be managed by, a couple of local area farmers. This is different in itself, as typically Farmer's Markets are set up by and managed by co-op or Farmer Associations. Why is this important?
Another of the changes, is that the Market is set up to run on Sundays now, rather than on Saturdays. Since the City of Brentwood already has a fairly established Farmer's Market on Saturday, and since a good percentage of Oakley residents are involved in youth sports, which tend to take place on Saturdays, the farmers who set up the Market thought that Sunday would be a better day. The market opens at 9:00 AM, and stays open until 1:00 PM, allowing those families who attend religious services to still have time to stop by before the Market closes for the day.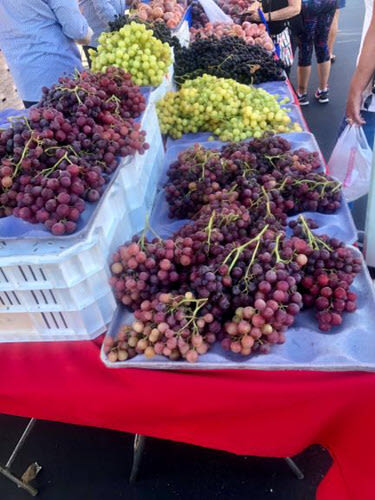 Which Vendors Will Be There?
Although the line-up of vendors participating in the Market may change from week to week, these are some of the farms that are currently listed as participating in the weekly event:
Esquivel Farms
Delfa's Garden
Diaz Farms
Bay Fresh Producer
West Coast Berry Producer
FreshWay Fish
MarElla Honey Bees
Gold Rush Kettle Korn
Hummus Heaven
The Orchid Tea Room
Tres Bien Creamery
Bubbles Soap
For the opening event, I have to say that the quality of the produce was amazing. My wife and I bought so much that we filled our vegetable drawer, nearly filled the fruit drawer, and still had to make room for even more produce! And, it wasn't just fruits and vegetables that were available. Hummus Heaven had several different flavors of hummus available, along with bags of homemade pita chips; and The Orchid Tea Room had quite a few boutique teas available. From what I've read on social media lately, there are more vendors looking to grab a spot for upcoming events, so the selection of products should only continue to grow.
Events Such As These Make Oakley a Great Place to Live
Having lived in Oakley for nearly two decades now, I am really impressed with the dedication that the residents of our city have in helping to make Oakley a great place to live. Events like the Farmer's Market, which was conceived of, planned, and put together by residents of Oakley, are a perfect example of what can be done to help Oakley grow, attract more families into our delta community, and help keep that 'small town' feeling.
This coming Sunday, make a point to head over to Civic Center Plaza. Check out the wonderful arrangement of fresh produce and take some time to meet some new neighbors! You may even want to bring a blanket or lawn chairs, as the Farmer's Market will have live music, too! What a great opportunity to have a picnic lunch in the park, listen to some great music, and enjoy some of the bounty that the Oakley farms are well known for!
Cypress Self Storage – The Cream of the Crop!
Here at Cypress Self Storage, we truly believe that we have not only the best services available when it comes to renting a storage facility, but that we have the best people, too. Our staff is highly trained, and we only hire the best people available. We want every experience that you have with us to be a favorable, and memorable event. Whether you are visiting us to set up a new storage unit, make changes to your account, or to discuss our services with one of our employees, we will do everything we can to ensure you are more than satisfied with the level of service you received. Cypress Self Storage is currently under construction and we will open for business soon. We cannot wait to exceed your expectations!