I must say that I've never in my over-five-decades of living, have ever been so excited about a storage facility before, but this one takes the cake. I'm one of those people who could spend hours in a hardware store and a craft store, but I have now found my new obsession – Cypress Self Storage in Oakley.
Located at 207 E. Cypress Road, just past the railroad tracks and across the street from an elementary school, it's open 7 days a week from 8 a.m. to 6 p.m. and from 9 a.m. to 5 p.m. on Sundays. (Access hours are 7 a.m. to 7 p.m. Monday - Sunday, excluding major holidays.)
The great thing is that they are operating with COVID-19 safety precautions in mind, which makes me feel extremely safe. Masks are required (even with the staff), physical distancing is implemented, they use contactless payments and they sanitize between customers. Wow. That's more than I've seen at some businesses. These practices make me feel like they take everyone's safety seriously.
It just opened recently and so it's shiny brand new and pristine, but that's not what has me so excited about this one. It's so much more.
For starters, they offer a free moving truck – yes, free, and ALL day even. It's a brand new truck with a pullout ramp and looks easy to drive. It's exciting to know that I don't have to rent a truck with all it's hidden charges and insurance requirements and I don't have to pick-up a rental truck at wherever they're located and take it back at the end of the day when I'm super tired. At Cypress Self-Storage, the truck is on the property – they just ask that you fill it back up with gas when you're done – that's it! How cool is that?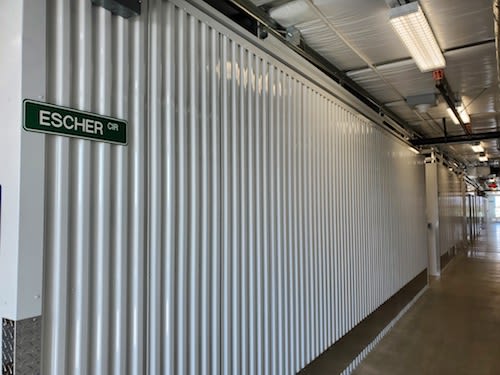 Next I love that inside the 3-story section of the facility, each beautiful white metal hallway has local street names so that one doesn't get lost. And it's not that I get lost very easily, it's just such a cool way to find your storage unit. At the end of one hallway, you come across a larger-than-life window that allows you to look out and see the landscape of far East Oakley. Funny, I've lived in Oakley for decades and have never been three floors up to enjoy the vantage view I see from the storage facility. It took a storage facility to show me a birds-eye view of the town I've lived in for so many years.
While most storage facilities sport a gray metal or dark and gloomy interior, Cypress Self Storage is the exact opposite with its white metal walls, which gives me the feeling of cleanliness. Add to the ambiance, is the overhead music, which really puts you in a joyful mood while moving-in. OH and talk about the elevator – it has flooring that's better than my own home, seriously. It just makes this facility feel comfortable and for some reason, I get the whole model home vibe to it.
Outside they have – like most storage facilities – pull-up storage units, which is so convenient. But the colors they chose for the exterior are happy colors, not drab, boring ones. Studies show that colors do something to your mood, and Cypress Self Storage nailed it, when it came to picking the right ones. Everyone knows that moving is a huge chore, but with all the amenities and fabulous design features that this facility chose, it actually makes moving enjoyable and borderline fun.
Did I mention their state-of-the-art digital surveillance cameras and temperature-controlled units? The cameras give you peace of mind, especially when you have precious memories stored inside your unit or highly valuable belongings. It's nice to know your property is in a good place and not only that, away from the harsh sun and weather. We've had scorcher, 3-digit heat waves in Oakley lately and that means your possessions are not going to melt or succumb to extreme weather conditions.
I also found something one RARELY finds at a storage facility … or at least something I've never found at a storage facility … and that's a beautiful bathroom. It's unisex, meaning it also has a urinal, but the bathroom is so beautiful inside, down to the accent pieces. And just the fact that they have a bathroom – is mind-blowing. When you are making trips back and forth with moving in, it's so nice to know that there's a place to take a potty break without having to go to a dirty gas station or all the way back home – where you've already packed the toilet paper in a box you forgot to label.
Okay, what else? There's really so much to talk about, I could actually talk for days. You'd think I discovered Disneyland here in Oakley.
OH … the turn-left lane they had zoned and constructed, right in front of the storage facility at the light signals on E. Cypress Road. This was genius, because let's say I'm at the stoplight and the long train goes by, which it does a few times a day – I now have the option to safely make a U-turn in the new turn lane and head east back to Sellers Avenue to continue my journey, especially if I'm running late for an appointment. Bravo Cypress Self Storage! I'm sure that was no easy feat.
One last thing to boast about is their reception area. It feels like a comfortable model home interior with a mid century modern couch and seating area, coffee table, free water bottles, coffee and even hot chocolate for the non-coffee drinkers. Me, I'll drink both! But so who offers all this these days? No one. Yes, they sell moving boxes and other moving goodies, but coffee and hot chocolate and free water bottles? I really am so impressed and blown away by this facility – that I want to encourage you to, at the very least, tour the facility with their friendly staff.
This place is so beautiful and the staff is so friendly, that it makes me want to just pop into this gated storage facility just to say HI. Honestly. They might think that's creepy of me, but this facility is definitely a must-see, must-rent and must-tell everyone you know. And that's exactly what I'll be doing with my friends and family.