At Lakewood Self Storage, we truly love our local communities of Lakewood and Long Beach. Today's blog post highlights our top 10 favorite places in Long Beach. Whether you need a self storage unit, or just want to chat about the local community, we are here for you. We hope you enjoy today's blog post!
Please note that this blog was written before COVID-19. Please contact the restaurants/places to learn about their business hours and new rules/procedures during these unprecedented times.
#1: Shoreline Village
Shoreline Village is located in downtown Long beach directly adjacent to The Pike. A colorful and festive destination, Shoreline Village offers fun for the whole family.
Whether stopping by for a freshly made churro, or sitting down for dinner and a brew at The Yard House, you will be enjoying one of Long Beach's very best views of Rainbow Harbor and the downtown marina. But seriously, don't miss out on those churros.
Shoreline Village
401-435 Shoreline Village Dr. Long Beach, CA 90802
#2: The Aquarium of the Pacific
Long Beach's Aquarium of the Pacific is the very best Long Beach has to offer. The Aquarium is absolutely state of the art in both education and in tantalizing the human imagination.
Making the world a better place with the newly added Pacific Visions Wing, the aquarium is educating our residents and visitors on the importance of climate change and the effects it is having on our most treasured natural resource, mother ocean.
Aquarium of the Pacific
100 Aquarium Way, Long Beach, CA 90802
#3: Rosie's Dog Beach
If your life has been blessed with a loving canine, why not give your precious fur baby a chance to unwind and interact with their peers in the very best place in Long Beach for dogs to be themselves, Rosie's Dog Beach.
Located directly adjacent to the Long Beach Pier behind 2nd street. Not only is this Long Beach's only non-fenced dog park, its literally on the sand. Fido can run, play and swim in the Pacific Ocean without any man-made obstacles.
Rosie's Dog Beach
Ocean Blvd. between Granada Ave. and Roycroft Ave.
#4: The Hangar @ LBX

Whether you've been sweating it out on the jobsite, or trapped in a tiny office this week. The sun is shining and the future is bright because Pliny the Elder is finally on Tap once again at Bottlecraft. Bottlecraft's Tasting room is no doubt the centerpiece attraction at Long Beach's new uptown hotspot The Hangar @ LBX located just up Lakewood Blvd. from the Long Beach Airport. 
Your family friendly evening starts with a selection of one of over 25 craft beers on tap at Bottlecraft. Then take a stroll and peruse the menus of Temakira (the hand roll shop), the Kroft (comfort food reinvented), Plaid Sheep (grilled cheese delights), Marinate (Korean BBQ), Amorcito (Mexican Kitchen & Cocina), DonerG (Turkish & Mediterranean Grill), Bluebowl (superfoods), Bite Mi (Artisan Sandwiches & Teas) or hit up my favorite, Jay Birds's (Nashville Hot Chicken) and of course you must end the nights festivities with a selection at Popbar (Gelato bar) or perhaps you're a coffee buff, in which case you must try Portola (coffee Roasters).
Any way you slice it, you can be sure of one thing, you will be back.
The Hangar @ LBX
(949) 760-9150
4150 McGowen St. Long Beach, CA 90808
#5: Catalano's Pizza
All the way up Orange Ave. into North Long Beach right before Carson St., is an unremarkable shopping center and under an unremarkable sign you will find a true gem, Catalano's Pizza. Now I understand everybody thinks they know the best place to score a slice, but believe me when I tell you, Catalano's will blow them out of the water.
We discovered them because while Timeless Pints Brewery has the best beer around, they do not serve food, but they do have menus for delivery. One day with IPA enhanced vigor I asked Stacy "give me the best menu, I don't have time for mediocre today". I was handed one menu, and one menu only, Catalano's. Our fav, Veggie with extra cheese, Jalapenos and Pineapple.
Catalano's Pizza
(562) 424-8646
1178 E Carson St. Long Beach, CA 90807
#6: SteelCraft
These guys bought a piece of property and placed 8 steel shipping containers on it to create a courtyard filled with picnic tables. Each one of the 8 containers were custom cut and fabricated into high end micro restaurants including the very best fried chicken and waffles at Waffle Love. Maybe you're in the mood for a burger who has had its buns replaced with two patties of home made mac n cheese that has been breaded, deep fried and placed atop a 1/3lb burger with maple glazed bacon at Pig Pen Delicacy.
If that doesn't flip your lip, choose from wood fired pizza at Desano or gourmet ramen at Tajima. Afterwards perhaps an ice cream or coffee at Steelhead. And of course, every trip starts with an ice-cold craft beer at Smog City Brewery. SteelCraft is dog and family friendly as well. This might be a few of the reasons its our go to place for good grub, good times and great people.
SteelCraft
3786 Long Beach Blvd. Long Beach, CA 90807
#7: Mothers Beach
Mothers Beach located at the East end of Naples on 2nd Street, right under the bridge on the North side. I have fantastic memories of my own mother taking me to Mothers Beach when I was a young boy. Mothers is a small stretch of beach in the Alamitos bay, cordoned off for children to swim and be safe.
For a slightly inland beach, Mothers has exceptional water quality (except for the rainy season). Just minutes away from the new development 2nd & PCH.
Mothers Beach
(562) 570-3100
5839 E Appian Way Long Beach, CA 90802
#8: Long Beach Museum of Art
Location location location! This place is situated directly atop the bluffs along Ocean Blvd. To the East you have Bluff Park, a treasure in itself and to the West you have Cherry Park where you can catch free yoga on Saturdays with the entire city it seems. South, you have the beautiful Pacific Ocean and did I mention this was one of the coolest museums I have ever been to? Last time I stopped by the whole place was filled with top end street art. From sculptures to spray paint they had all the coolest pieces.
Long Beach Museum of Art
(562) 439-2119
2300 E Ocean Blvd. Long Beach, CA 90803
#9: Art Theater 4th St. Long Beach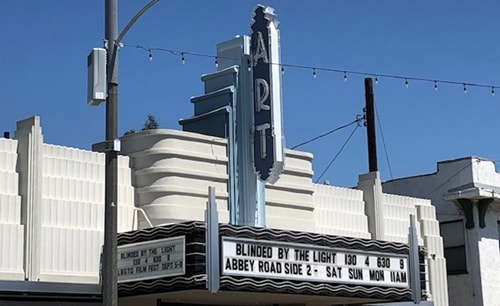 The Art Theater on 4th Street is a Long Beach Institution. My personal haunt as a young man. The Art Theater is famous for showing the Rocky Horror Picture Show every Saturday night for like the last 20 plus years. Always showing awesome independent films in an authentic 1920's Art Deco décor. They host many film festivals including the Q Films every year. Some of the very best restaurants and 2nd hand shops anywhere in Long Beach are literally next door.
Art Theater 
(562) 438-5435
2025 E 4th St. Long Beach, CA 90814
#10: Antique Market of Long Beach
Located in North Long Beach at the Veterans Stadium off Bellflower Blvd. Every 3rd Sunday of the month over 800 people sell their personal treasures and oddities. I myself have scored an outrageous Tiffany lamp, as well as some very unusual hanging plants. I think they might be from another planet. In other words, you have just got to check this place out. PS, bring a cart, you will need it.
Antique Market of Long Beach
(323) 655-5703
4901 E Conant St Long Beach Veterans Stadium, Long Beach, CA 90808
Lakewood Self Storage: We Are Long Beach's Neighborhood Self Storage Facility
We hope you've enjoyed our list of the best of the best in Long Beach. We'd love to hear your feedback and your suggestions for other great things to see and do in Long Beach. Please stop by at Lakewood Self Storage and tell us what you've discovered; we'd love to hear from you!
Lakewood Self Storage
(562) 627-1888
LakewoodSelfStorage.net
3969 Paramount Blvd., Lakewood, CA 90712