At Lakewood Self Storage, we truly love our community of Lakewood, California. In fact, we are regulars at Humblebrags Eatery, a delicous Lakewood restaurant, just a short distance from our self storage facility. Today, we are thrilled to share another amazing destination in the greater Lakewood Area (this one is actually in Long Beach). We're talking about The Aquarium of the Pacific!
Our Donation To Their Children's Education Program
Lakewood Self Storage supports local organizations in our community, and we just made a donation to The Aquarium of the Pacific, earmarked for their children's education program. To commemorate our contribution, we also visited the aquarium for a personalized tour. It certainly was our honor and privilege to enjoy this tour. Today, we hope you enjoy our photos and aquarium review!
Our Personalized Tour of The Aquarium of the Pacific
We had an amazing time down at the Aquarium of the Pacific last week. We were invited down by Lindsey Yates, Senior Manager of Relations and head of the aquarium's youth education programs. Lindsey was kind enough to meet us in person and show us what Lakewood Self Storage's donations to this wonderful program go towards.
New Moon Jellyfish Touch Tank - How Amazing!
We headed over to see the new Moon Jellyfish touch tank. Jellyfish are very sensitive sea creatures and to be able to put your hand in the tank and touch them with your fingers was mind blowing. Honestly it's hard to even feel them when touched due to them being mostly water with a bit o' gel.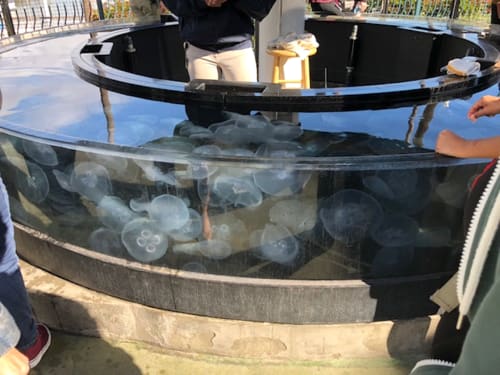 Mudskippers and Their Unique Story
Next we headed over to an interesting new tank with mudskippers. An interesting story behind this small tank. A contributor to the aquarium loved these little water lizards when they were a young child. Fast forward a few decades and they had the opportunity and means to make a meaningful contribution to the aquarium and you guessed it, mudskippers! How fun.
Educating Our Children - We Love This Place
We also had the chance to view 3 classrooms at the aquarium designated for children to learn and interact directly with living creatures and facility functionality, like the super complex and intricate pumping and filtration systems that work seamlessly behind the scenes to keep everything healthy in the tanks, and everyone in front of the tanks spellbound.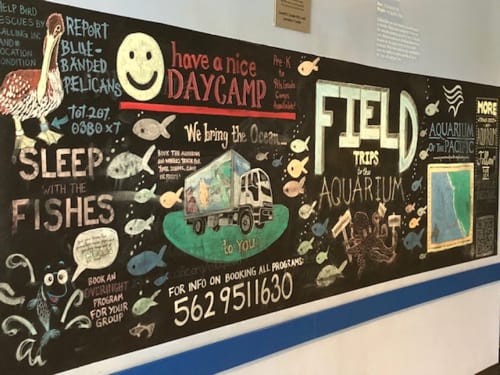 Many of the walls were covered in colorful and imaginative drawings by the children who participated in their many educational programs. You can tell that these experiences moved and inspired these children. Most likely shaping their futures in positive ways.
The Ocean and Its Inhabitants Have Great Meaning To Us, Your Lakewood Self Storage Managers
The ocean and its inhabitants have made a huge impact on my life from a very young age. It's the last undiscovered frontier on planet earth. If we don't stop and take care of her, there may not be an ocean for our children.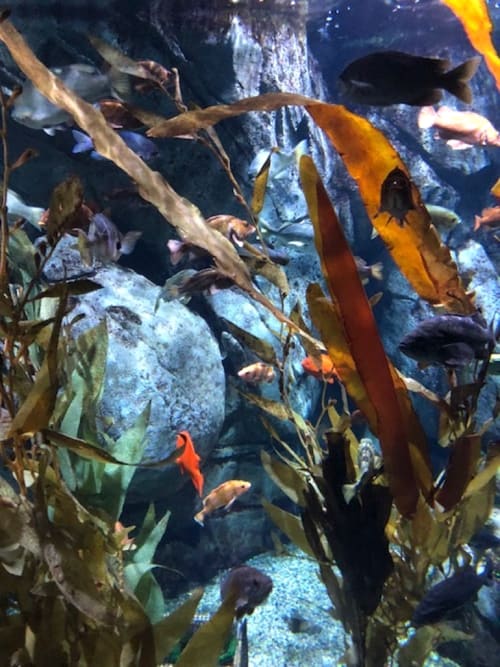 Please Stop By Lakewood Self Storage - We Love Our Community
We truly hope you enjoyed our review and photos of The Aquarium of the Pacific. We love this local aquarium and their commitment to the youth. At Lakewood Self Storage, we care about our community and we support our local community. If you are ever in need of self storage, or just want to drop by and talk about Lakewood and Long Beach, you are always welcome at our facility. We want to take this opportunity to sincerely thank Lindsey Yates and The Aquarium of the Pacific for their incredible tour, an experience we will never forget!
Aquarium of the Pacific Contact Information
Aquarium of the Pacific
100 Aquarium Way
Long Beach, CA 90802
(562) 590-3100
aquariumofpacific@lbaop.org
www.aquariumofpacific.org